Edited from notes on display in the Dvořák Museum: Nelahozeves probably came into being in the 10th century as a family village, named after the family of Nelahoda, a miller (hence the village's German name 'Mülhausen', from the German 'Mühle', meaning 'miller'). It belonged to the St Vitus chapter of the Catholic church in Prague... It was evidently in 1553 that the new owner of the Nelahozeves domain, Florian Griespek von Griespach, from Innsbruck, began to build a fortress-like stately home in the Renaissance style... In 1623 it was sold to Polyxena Lobkowicz. At the time of Dvořák's birth the village had 46 registered buildings and 438 residents.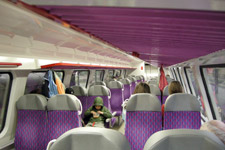 I'd travelled to Nelahozeves from Prague's Masarykovo station, a 48-minute journey, in a double-decker train with a strikingly mauve interior, which filled right up and left dead on time at 09:37. The weather was grey, overcast and cold. My notes contained important directions from the Rough Guide to The Czech and Slovak Republics: "Shortly after pulling out of Kralupy, the train passes through a short tunnel and comes to rest at Nelahozeves Zámek, the first of two stations in the village, and the one to get off at." Four English bodgers near me on the train talked endlessly about their dormer windows and their children's home extensions, so I didn't let on I was English; I think the Czech lady opposite me understood the bodger problem, when I raised my eyes in despair! They got off with me at Nelahozeves when we arrived at 10:25, but headed for the Lobkovicz Palace as I walked the few metres to Dvořák's house.
I went up to the Lobkowicz Palace myself when I came out of the house. There were buses parked in front of it and (another) noisy wedding going on. Whether to go in? The description in the foyer suggested it was mainly paintings of the Lobkowicz family and of their horses and dogs, so I decided not, though the rooms are no doubt sumptuous. The gift shop looked as if they were selling the family silver, and was priced accordingly, so I made use of the princely loo and headed back to the station. The wedding guests were driving round the village like loonies and blowing their horns, as is the custom.
My plan had been to stay longer in Nelahozeves, making it a rest day and sitting in the sun sipping beer by the Vltava, but the weather was cold and miserable and there wasn't much chance of that today! I knew there were trains back to Prague at 14:27 and 16:27, so I assumed there would be one at 12:27, which there was.