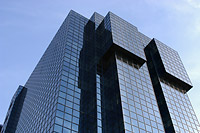 Block. Taken as part of the Walk by the Thames series in the very early days of the Nikon D100. A colour original, obviously (the full frame shown on the right), but it seemed to be crying out to be printed in monochrome. So I converted it in Photoshop, pushing the sky to white and the dark shadows to a solid black; there's still a good tonal range across those acres of glass panels though. Plus a crop off the left. A definite improvement IMHO.
I was (and still am) amazed at the precision of the lines and edges from the 6Mpx sensor in the D100. And the old and now rather rattly 28-85 Nikkor lens, with its somewhat restricted zoom range by today's standards, performs extremely well too.
In competition I was well pleased to be given 20/20 by Ron Tear, a judge on our local circuit for whom I have great respect – I can always rely on Ron to either love my work or hate it! But this is his sort of picture...
Technical: Nikon D100, 28-85 lens @ 28mm, 1/500sec at f/5.6, ISO200
• You are here: Home > Photography > Architecture > 'Block'